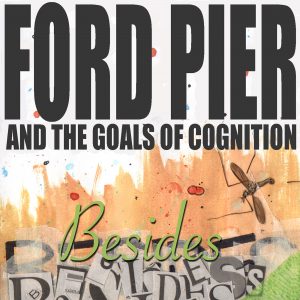 Besides was my first good album.
It was not meant to be. Meconium was meant to be my first good album, and it is a fine first album, but it sometimes plays host to a callow smartipantsiness that the songs neither redeem nor excuse, and the hubris of its one-man-band production flaunts its limitations with gusto unbecoming. 12-Step was intended to be my second good album, and it is also a fine album, but it groans under the burden of its undisciplined ambition, and, for all its flapdoodle and hyperchroma, is strangely undynamic.
Besides was not even meant to be an album, but rather simply twelve songs, not fettered to any specific running order, quickly (carelessly?) recorded to beef up, content-wise, the feckless and Polyanna-ish Build-It-And-They-Will-Come-ery of the original www.fordpier.com. The songs were to be drawn from an ever-deepening reservoir of ones that I liked, but that I feared were too genre-identified to fit into future recording projects as then foreseen. They seemed like the type of worthy marginalia that would have wound up as B-sides or EP tracks, had I been in the business of putting out singles or EP's at that time, and included some of my oldest songs (the Snakes riff I'd been messing with since high school, and I'd had the trumpet part to Life Lessons in my head since I was a baby) and some of my most recent (chord changes for Pope Greg! were yelled out live as we were tracking it.) Bring Forth, God Alone, Fave Mistakes and a couple more had been live mainstays for a while and I was keen to document them for posterity before rolling up my sleeves for Pier-ic Victory, which even then, in the summer of 2000, was almost totally mapped out, right down to the last bubble and squeak, although recording wouldn't begin for another year and a half.
I have no record of the dates, but it must have been July. Keith, David, and I arrived at Scott's on a Thursday afternoon, set up our gear and a keg of Storm I.P.A., and played through just about everything before decamping first to Thursdays Tavern so I could play piano with Jerry Jerry and the Sons Of Rhythm Orchestra, and then to Carolyn's for slumber, after a fashion. The next afternoon we drove back out to Scott's, listened over what we had, deemed it to be on the whole not unacceptable, and executed a couple of quick fixes of minor clams. The fellas packed up to drive back to Vancouver while I tucked into finishing everything off. Tolan came by that evening to pinch hit engineer while Scott spent some time with his family, and I went to bed around five after unfairly castigating him for a fluffed punch-in. Sorry, Tolan.
The next afternoon, the instrumental tracks were done and the keg was empty. Scott drove me back to Vancouver where Keith, David, and I all played in The Hard Rock Miners at The Silvertone, and on Sunday morning, while driving his Alfa Romeo onto the ferry to go back to Victoria, he vomited into his own lap. I went back a month later to sing, do touch-ups, and mix. Somewhere in there we also recorded Fuggin' Outlaws for the Buy Nothing Day compilation.
Over this period, and to my surprise, a definite song sequence with a beginning, middle, and end had taken root in my imagination. As attached as I was to the idea of the material existing outside any set program, I began to feel that the songs enjoyed real benefit from being set in relief against one another in this order; an order which seemed to offer drama, variety, and sweep, and which went some ways towards downplaying weak spots in the composition and performances. In spite of my best efforts, I had an album on my hands.
Still, though, I hewed to my original plan of having the material accessible only via the new website. I had a romantic attraction to the idea of having a free collection available, and there was something in the air about Online Music and the stirring universalist energy of direct connection between artist and enthusiast which I wanted to get in on the ground floor of. Snicker. I also did feel that the songs were a step backwards from what I wanted to do with Pier-ic Victory, which to me seemed the organic progression from 12-Step, and as pleased as I was with what we had come away with, it was still undeniably roughshod, slapdash and pocked with imperfections. I had made up my mind and would not be in my purpose swayed. Do I wish I'd put just a little more time into it and released it properly? I don't know. I think maybe one of the things that holds it together as well as it does is that very imperfection and spontaneity. Unencumbered by the weight of any real expectations, the programme happily exists only by the terms and standards that it sets for itself. I learned from that.
So anyway, on September 26th, 2000, www.fordpier.com was launched and Besides was available to all. I burned 100 (actually closer to 70) numbered copies, and made sleeves for them out of generic macaroni  and cheese boxes. Of the front cover "art", only this can be said: I have never put less thought into anything. For the back, a Martin Tielli rendering of me in Aachen sporting a moustache which didn't do anything but get me into trouble was used. These items were given to friends, and maybe a dozen were sold through Red Cat Records or off the stage once my commitment to the purity of the "web-only" concept had eroded.
The original website was ungainly and, like many early-oughts online presences, was conceived as an activity book or something as opposed to a source of information. It was a chore to navigate and impossible for an unskilled person like myself to maintain. With my move to Toronto came the resources afforded by a record label and the advent of various forums and pages for the essentials like updates and notifications. The website fell into disuse and the domain name was squatted within seconds of my allowing it to lapse.
And with it went Besides, which I never stopped playing songs from, and remounted for a little while minus a couple of songs on fnordpier.com before that second website, too, collapsed under the weight of a neglect its baked-in complications were doomed to inspire. I swing well below the Mendoza Line with these websites, it seems. Or maybe not, actually; if I manage to keep this one going that's pretty close to an elite average. But I digress. Besides is back, for your delectation. Thanks to everyone who pressured me to dig out the original files and make it happen.
Enjoy.