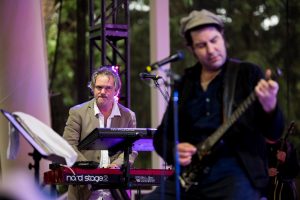 Autumn. The most romantic time of year, as I am moved to asseverate with unimaginative predictability whenever it rolls around . This isn't what I imagined tennis elbow would feel like.
One year ago, Strength Of Materials entered the studio to contribute string parts to a  New Pornographers record on the very day that I jetted off to Ontario, where on the eve of a solo European tour, I helped Martin add the last details to a new Rheostatics record (how about that picture of us there by Marc Chalifoux, eh?) Well the last couple of weeks have seen both the Rheos and Pornos efforts finally show themselves (also check out Meredith and Peggy from StrOMats' contributions to the new record from Lightning Dust) and next week, Howard and I put the finishing touches on the, erm, "solo" record I've been chipping at this year. So as autumns go, I'd call this an eventful one.
That solo record there (a shortlist of potential titles has been run by some people to chilly indifference) I expect will have a release in the spring, just ahead of the next European tour, which is now being booked. Watch this space!
Every year my New Year's Resolutions are the same: make a million dollars and pay more attention to the National League. Every year these determinations come to dust. This year I shall add to them regular practice on all instruments. 2019 was one long clam bake on many instruments in many configurations. I can't blame it all on the tennis elbow. Maybe if that goes well, I'll tend to the website more often? As promised? I like keeping promises.